I remember that it was a rainy weekend in late November 2010 when I walked through the city and saw a HUGE ad at the bus station: "She can see your smile again" it said. It caught my attention and I kept reading. I learned about a little girl was able to get her eyesight back – she was blind but donations helped her to see again. She was from Africa and looked so happy that I couldn't stop thinking about her – what if I would have a little God Child from Africa? And then – what if we all from Digidesignresort had a God Child?
What if we could give someone her eyesight back?
I couldn't get the idea out of my head and started thinking. And then all of a sudden I had a solution: Why not create a Digital Scrapbooking Beginner DVD? Why not create a DVD for people who just start out in scrapbooking and need some well done instructions in video format? And add some really great kits?
I couldn't wait to get started so I spent all weekend recording the videos and talking to a friend of mine to create the DVD Artwork for me. We put as much value on the DVD as we could – after all our DVD could be a GREAT birthday or christmas present as well as a present for yourself. It took another week until the DVD was ready and I can't tell you how proud I was when I first announced the Digital Scrapbooking DVD Artist Studio 1
All the money we would make with this DVD would be a donation to the SOS Kinderdörfer who help kids in Africa. Well worth to spend my time on that production!
We still donate the money we earn with our first Artist Studio DVD for Beginners to the SOS Kinderdörfer…
But we are also proud on our DVD! If you just start out in digital scrapbooking – this DVD is for you. It is not just packed with 5 (!) digital scrapbooking Megakits (our fantastic collaboration kits) but also with 12 Video Tutorials and tons of bonuses! And the best is – shipping and handling is already included in the price

Have a look here:
Our five Collaboration Megakits
A New Year 365
One Day In Your Life
Daydreaming
Summer Cottage
Sand In My Toes
Videotutorials (created using Photoshop Elements but can be used with all other programs as well!):
Create a basic layout
Create a layout with a template
Adding Shadows
Adding Dimension
Frame a Photo
Get rid of red Eyes
Make a Puzzle out of your Photos
Add realistic Shadows
Recolor Elements and papers
Restore old Photos
Cut out text out of Photos
Turn photos into black/white
(value $48)
If you don't have a program – don't worry, Adobe offers a 30 days Trial (fully functional!)
Bonus Videos:
Create a Photobook
Create a Calendar
Create a Greeting Card
(value $15)
Some MORE Surprises also included!
(value – priceless

)
Create such beautiful pages: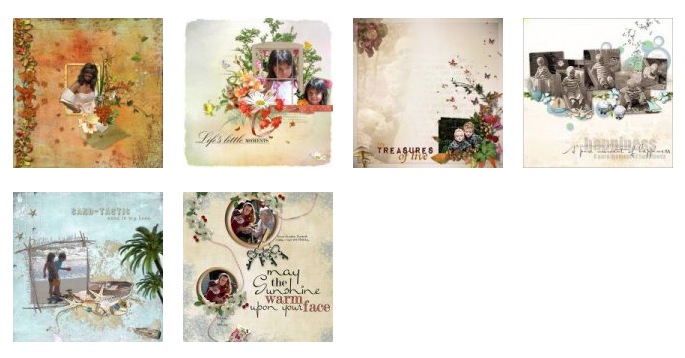 These DVD will be shipped to you by mail. The shipping and handling is already included in the price, no matter where you live.
But you cannot just create digital scrapbooking layouts – basically with these DVDs you can even open your own business because all kits are PU/S4H friendly so you can scrap photo books for your clients, create a party decoration, scrap your last holiday, make a beach party, create place cards, place mats, bookmarks and whatever comes to your mind and is provided with graphics. You'll love it!
Please note: Even if you may get our newsletter you need to register at the store once. Make sure you have added your correct address when you buy our DVD because we ship to that address.
And here a coordinating freebie to our DVD – we hope you enjoy!!!
 Wanna purchase the DVD?
You can save 79% right now! But hurry, this price won't last forever!