In this tutorial you are going to learn how you can design a unique paper for your layouts by blending 2 or more of your favorite colors. In this tutorial we are going to use  a paper from Digital Scrapbooking Paperpack Rainforest 2 and one from Digital Scrapbooking Paperpack Vintage Fantasy 8 from our online store.
Blend Papers
You can increase each image by clicking on it so you can easily see all settings used.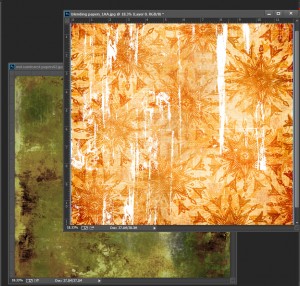 1. You can open 2 or more papers that you would want to blend with each other.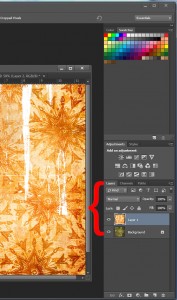 2. You can then hold down the down Shift key, and then drag your papers to make sure they are layered in a single document. When you hold the Shift key, it will keep your papers in line. Based upon the number of papers you intend to blend, you ought to now have a layered PSD document with your selected papers. Always remember to save your work.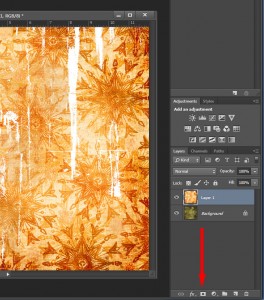 3. You should make sure that the uppermost paper layer is active, and then click the Add Layer Mask icon, that is at the bottom part of the Layers Palette. In case you have more than 2 papers, you can repeat the procedure for the top papers only. Please note that the paper at the bottom (background) does not require a Layer Mask.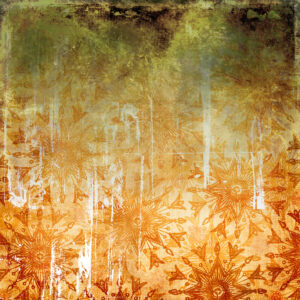 4. We will be using the Gradient Tool on the top paper to fade it into the one on the bottom. You can then select the Gradient Tool and then drag from top all the way to the bottom. You are now going to see the paper at the bottom. At this point the 2 papers should now be blended.  You can repeat the same procedure if you have more than 2 papers, to acquire different results.
NB: If the Shift key is held down whenever using the Gradient tool, it does keep the tool in a line that is straight.
Layer Masks – You will discover that when it comes to Layer Masks, the basics are that whenever you paint with black, the layer of the sections you have masked are deleted or hidden.  Also, when you paint with white, you should reveal sections of the layer. Then, when you select the Mask Layer on the layer, it automatically sets to black and white the foreground, as well as background colors.
With the use of the Gradient Tool, you can perform more trials by moving from one corner of the image to the other. On the other hand, you can use the brush, and then paint on the top layer with black making sure that you have selected the Mask Layer, and then by painting in the mask, you can blend the papers. You can have a lot of fan and showcase your creativity with this.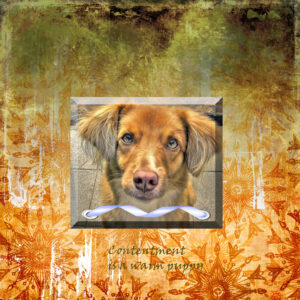 Liked the papers? You can find them here, just click on the images, both packs are for commercial use as well!