Perhaps you have discovered digital scrapbooking after you've gotten used to making the traditional hand-made scrapbook. If you still have a soft spot for the classic scrapbook, we can't blame you because just as e-mails will never replace the hand-written letters, printed scrapbooks gives an indescribable sense of joy because of the experience of holding on to something tangible that can be viewed over and over again without the need of any computer or gadget. The great thing about digital scrapbook is its versatility, you can keep them in their digital state yet you still have the option to print them out if you want to have a hard copy version. On that note, we have taken the time to look for the best printer for scrapbooking 2014 to print scrapbooking layouts.
There are a whole lot of printers to choose from out there in the market and there is no doubt that these printers were created to further suit the needs of the digital peeps like us. To help you decide which one works best for you, here's a rundown of five printers that we think have earned our recognition to be considered as one of the contenders for the best printer for scrapbooking 2014.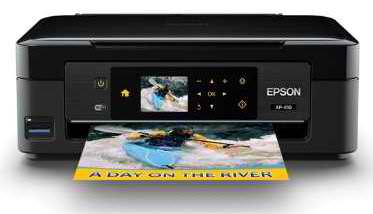 Starting off our list is the Expression Home XP-410 Small-in-One All-in-One Wireless Inkjet Printer from Epson. The XP-410 is one of the feature packed printers in its league of compact sized all in one printers. Aside from printing, it can copy and scan documents, photos or practically anything you want for your digital scrapbook layouts. If you are not using the wireless function, you can easily navigate the menu settings through its touch intuitive 2.5 inches color LCD panel.
What makes this printer very likeable is its wireless printing capability. As it supports most smartphones, laptops, computers, iPads and all sorts of tablet devices. Both AirPrint are  likewise supported. If you're the type who wants to save money on inks, Home XP-410 uses individual DURABrite Ultra instant-dry inks which means you only need to buy those tanks with missing colors. Its compact design makes the printer a space saver. See more about Epson XP-410 here .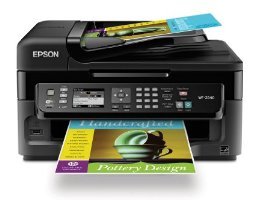 Our second printer, the Epson WorkForce WF-2540 Wireless All-in-One Color Inkjet Printer, can be called the grand daddy of printers. Not only you can print, copy and scan with this printer but also send fax messages. It offers super fast printing speed of 9 ppm for black and white and 4.7 ppm for colored printouts that are certified to conform with International Organization for Standardization (ISO).  To make you more productive, the printer has a 30-page Automatic Document Feeder that automatically loads up papers as it prints. If you want to get your documents converted into editable digital copies, the WF-2540 can easily do that, thanks to the OCR (Optical Character Recognition) software included in the package. Just scan your document and let the software do the job of converting the contents into text-searchable, editable PDFs.  Isn't that convenient?
Just like the Exression Home XP-140, the Workforce WF-2540 makes Wi-Fi printing with ease because of Epson Connect which supports Apple AirPrint and Google Cloud Print technologies. Additionally, users can print via USB that allows file transfers & sharing of documents. In terms of quality of output, this printer can be considered at par with laser printers for its crisp black text. If it's after sales support that you are looking for, Epson offers free phone support for the duration of the product life. Customers can also avail of free resources like tutorials and templates that can be used for various digital projects. Check it out at Amazon's website.
From Canon, a favorite brand of the digital populace, comes the third printer in our list –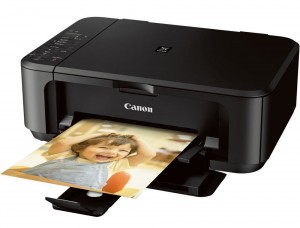 Canon PIXMA MG2220 Color Photo Printer with Scanner and Copier. For digital scrapbookers who like to print photographs and layouts, this printer practically covers your need. Being a fun and easy to use printer, it's borderless 4″ x 6″ printing capability is just the tip of the iceberg. Packed with My Image Garden software, users are treated to a delightful photo editing experience which includes fun filters, facial recognition, Auto layout collages, file and alendar organizaion and other perky modes. Even captured movie clips can be printed out into wonderful photos. It fairly prints fast, however, the printer only uses wired printing.
Quality wise, photo quality printout can be achieved up to 4800 x 1200 maximum color dpi3 with the help of Canon's Full-photolithography Inkjet Nozzle Engineering (FINE). By using genuine Canon inks and photo papers, users can look forward to a long lasting photo print that can last up to 100 years. Click here to get additonal information on this printer.
For our fourth printer, Canon PIXMA MG5420 Wireless Color Photo Printer with Scanner and Copier takes the center stage. First and foremost this printer can be a reliable copier as it has various modes of copying features such as 4-on-1 / 2-on-1 Copy, Auto Exposure Copy, Auto Photo Fix II, Borderless Copy, Disc Label Copy, Fade Restoration, Fit-to-Page, Frame Erase Copy, Multiple Copy (1-99 Pages), Photo Reprint, Preset Copy Ratios, Two-sided Copy and Zoom. Scanning, on the other hand, also offers different ways like  Auto Scan Mode, Attach to E-Mail Scan, Network Scan, Push Scan, Scan to Memory Card and Wireless Scanning.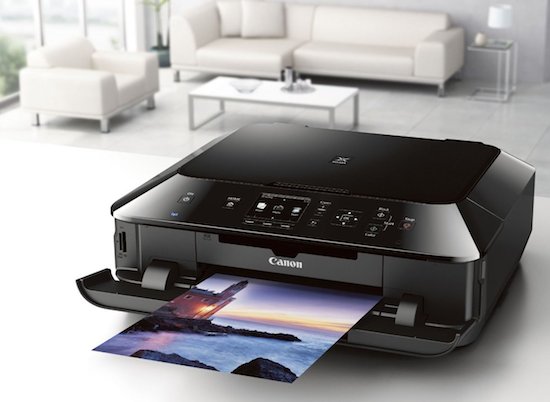 When it comes to printing photos, hi resolution images are given justice with 9600 x 2400 maximum color dpi. As with every hi-end Canon printers, this one can print at a fraction of time, that is, a 4″ x 6″ borderless photo for approximately 20 seconds; documents and web pages at 15.0 images per minute (ipm) for black and 10.0 images per minute (ipm) for color. With ChromaLife100, photos produced by this printer will last up to 100 years or more just like Pixma MG2220. To make the colors last longer, always use genuine inks and supplies. It's quite economical to use since this printer has a 5-color ink system that consists of 4 dye-based inks and a pigment-based black ink. The LCD display of the MG5420 is bigger at 3″ compared to those of Epson printers mentioned above. Any Wi-Fi enabled (iOS or Android) device or computer can instantly connect and print or scan with this printer. To know more about the Canon PIXMA MG5420 Wireless Color Photo Printer with Scanner and Copier, visit Amazon and discover how amazing this printer can spice up your digital scrapbook experience.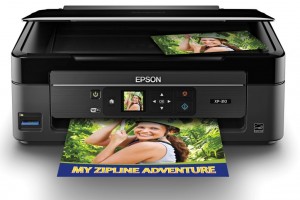 Last and definitely not the least, Epson XP-310 Wireless Color Photo Printer with Scanner and Copier completes our 5 best printer for scrapbooking 2014 list. If you want a small sized all in one printer that produces quality print outs, then this printer is for you. Behind its compact body, users get to enjoy crisp, sharp and remarkable photos and other documents even without any computers. Perfect for making scrapbooks, brochures, presentations and other projects. What sets this printer apart from those previously mentioned is that it has a built-in memory card reader where you can just insert any memory card into the slot and instantly use the printer. Another option for users is the Wi-Fi Direct function which means any device (smartphones, tablets, iPad, iPhone) or computer can access the printer even when there is no Wireless Network or router available. If you prefer to have the printer connect to your home's network, there's no problem as this printer will be able to connect in seconds.
By using genuine Epson inks, users are assured to get smudge-free as well as fade and water resistant photos. The printer uses individual cartriges that comes in different sizes which means you can buy small or big volume tanks depending on your needs and budget. Images to be printed can still be improved as there are red-eye removal, photo restoration, and correction of over/underexposed images functions available to use. Get to know Epson XP-310 Wireless Color Photo Printer with Scanner and Copier more here.
And that wraps up our feature on the best printer for scrapbooking this 2014.  Although technological concepts still continue to develop every day such that there is no telling how progressive they can become over the coming months, it's always a welcome sign for us digital scrapbook lovers to see new innovations.
How about you? Have you heard of any other printers that you'd like to add to our list of best printer for scrapbooking 2014?  Why not leave your comments and share your thoughts to us!