Some digital scrapbook layouts are easy to do. But some can really be head scratchers. One layout that seem to puzzle most scrapbookers is creating a woven plaid design from scratch. Yes, we mean that checkered pattern made from different strips of papers. But hey, weaving paper strips for digital scrapbooking layouts is fun!
Weaving Paper Strips for your Digital Scrapbooking Layouts
So, if you are still wondering how you can make a woven plaid design for your digital scrapbook layouts, look no further, here's a tutorial we just made for that purpose. All you need is a couple (or more) of digital scrapbook papers to weave, a paper for the background and an image editor like Adobe Photoshop or Elements.
Let's begin weaving beautiful memories and papers! Open your editor (we'll be demonstrating with adobe Photoshop CS5).
Open a new file. The size and orientation is your choice. We will be using 8 inches x 8 inches layout for this scrapbook journal.
You can increase each image by clicking on it so you can easily see all settings used.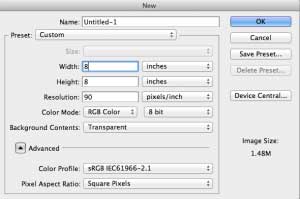 Remember to have a design in your mind so you'll have an idea of how you'd want those lines form a checkered pattern. For this tutorial, we intend to make the plaid pattern to be just an accent to the scrapbook layout. Hence, we will weave papers only on the upper left corner of the background paper.
Open all the other papers to be used for the plaid pattern. You can use printed or plain papers like these ones from digidesignresort's Digitals Scrapbooking Kit Hawaiian Party Luau.
Drag and resize the paper to be used as the background for the layout.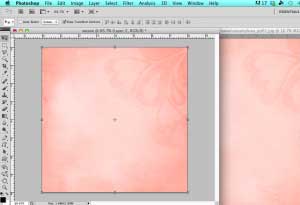 Using the rectangular marquee selection tool. Select one paper at a time and then cut out a strip from each scrapbook paper. You may choose to get different widths or have a uniform size. It doesn't matter. Close all the paper files when you're done except for the strips.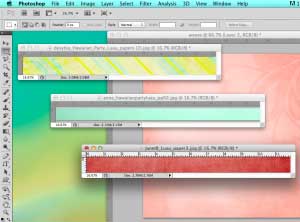 Position the strips. Start with the vertical ones. And then the horizontal  strips. They should somehow intersect or converge in one corner like the picture below. Lay them close enough to each other to simulate the woven design.
Here comes the tricky part. We need to identify which strips should come on top and which ones should be tucked in. You can do that by arranging their order on the layers panel. For added convenience  you may opt to rename each strip in their layers if ever you feel a little confused of the positions.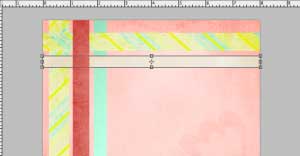 For the vertical strips, notice that we have three. Both strips on the side should be at the bottom while the one in the middle is on top of the first horizontal strip. They should be placed on the opposite on the second horizontal strip.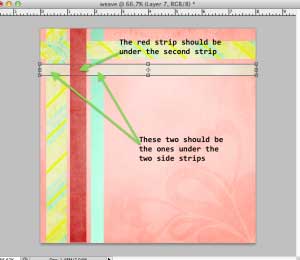 Try to see if you can solve the problem by further moving the layers. For example, the second horizontal strip should be over the red vertical strip and under the two vertical  strips on the side.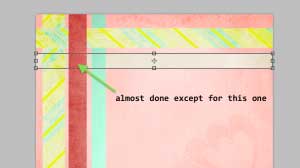 After rearranging the layers, you'll definitely have one or two unresolved orders.  To fully achieve a plaid pattern, we must cut out some parts of the strips like the red vertical strip illustrated above.
There is a magic trick to solve this problem. Go to the Layers panel, click on the thumbnail of the strip that needs to be over the red strip. There will be marching ants around it. Next, find the layer of the red strip and click it. Now, press Delete on your keyboard. And voila! The red strip on top is gone.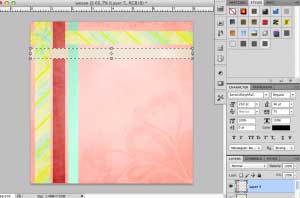 As a final touch, put some drop shadow effect on each strip to make the strips  of papers more pronounced.
There you have it! A plaid pattern accent for our digital scrapbook layout. It really looks awesome in this front cover of the digital scrapbook I made for my sister.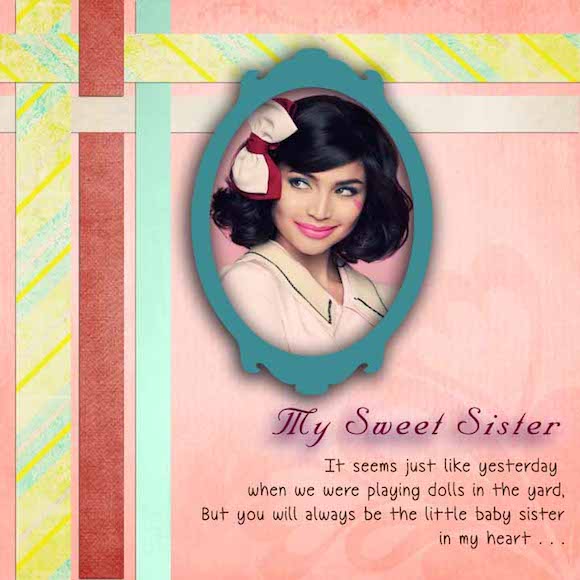 You can find the PDF Document here. Just click on the link and download the Printable to your Computer.