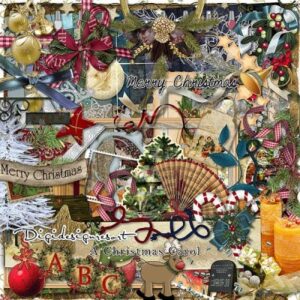 The proverbial phrase "Christmas is just around the corner" rings true now that we are almost done with Halloween. Soon, we'll all be anxious about our Christmas preparations. And what is Christmas without the traditional Christmas Party? If you are going to host or organise a Christmas Party either for your family reunion, office or school, you'll be probably more worried sick if it is going to be a formal event. Well, it's a wise step that you start making a list of important tasks to take care of early on like making the Christmas place cards.
Christmas place cards are those little papers that you see on tables bearing the name of each guest to indicate seat assignment. These are common in formal functions such as weddings,reunions, banquets, balls and proms. Fancy place cards are getting popular these days and are designed to fit the theme of the celebration. Creating a festive place card as early as now for your upcoming Christmas Party is perhaps the easiest thing you can do to cut down one task from your party preparation to do list. We promise that it's going to be a breeze if you'll just follow these instructions:
First and foremost, you need to decide on what shape and size your place card should have.  Standard place cards are rectangular in landscape folded format. The size varies from 3.5″ x 1.75″ to as big as 11″ x 4.25″. You may also opt for a different shape like a circle or star or even a tree shape. But for this demonstration, we will be using the standard format.
Get your digital scrapbooking papers and elements ready. We found these very nice papers and elements from Digidesignresort shop's Digital Scrapbooking Kit A Christmas Carol. We'll be using the 3.5″ x 1.75″ size for our two-fold Christmas Place Cards Layout which we will make in Adobe Photoshop CS5. But you can also use any other graphic program such as Adobe Photoshop Elements or Paint Shop Pro. Are you ready?
 Christmas Place Cards
1. Open Adobe Photoshop. Create a new file and make a template by setting the size of the place card. Remember that we intend to use a two-fold place card in landscape which makes it easier to position the card on the table. With that in mind, we'll set the width to 3.5″ as well as the height if we are to fold the card crosswise.
You can increase each image by clicking on it so you can easily see all settings used.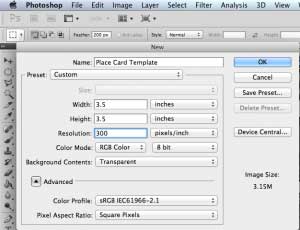 2. Make an imaginary guide by dragging your cursor starting from the top ruler downwards until you reach the 1.75″ mark on the vertical ruler.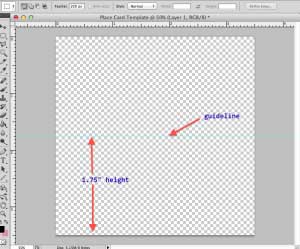 3. Open the digital scrapbooking paper that you'll be using and drag it over the template. Make sure that it fits the size of the layout. Do some adjustments if needed.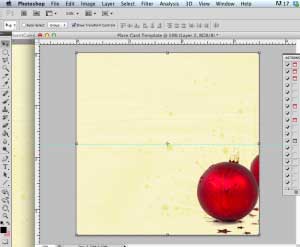 4. Start decorating the place card. Put some elements if you wish but don't forget to allocate a big portion of the card for the name. You may opt to put a generic line to put the name of the guest by handwriting or type in individual names one by one. Use the Type Tool to add the names if you choose to do it in your computer. I added some frames to put the names in and save each file one by one.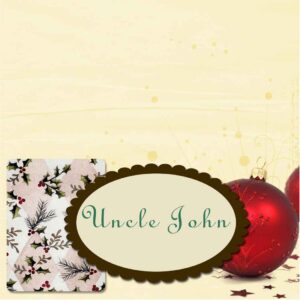 5. Once you're done doing all the place cards, you can combine 4 cards to make a set  in a letter sized layout like this one below.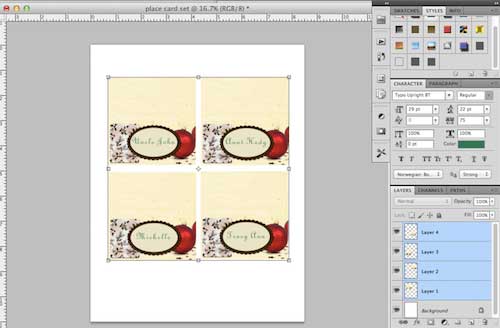 Finally, you may print it out in a letter sized board and cut them individually.
There you have it, we've made a simple Christmas Place Card out Digital Scrapbook Kits! It's never too early to start doing the same for your own Christmas Party. That way, you'll still have plenty of time for other preparations.
You can find the PDF Document here. Just click on the link and download the Printable to your Computer.
P.S. : Did we tell you that you can use the same Place Card file for other events as well? All you have to do is change the papers and elements to fit the theme of the celebration. Isn't that wonderful?