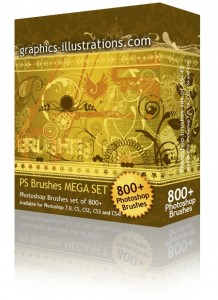 Everybody knows that Photoshop is one of the most powerful graphics design software around. It can virtually do most of the tasks that you need it to do. However, the learning curve is very steep. It can take some time before you are up to speed and able to use all the functions of the software. The quality of your work will also depend on the various add-ins that you have. If your add-ins are lacking or if they are of poor quality, you might just end up getting frustrated with your work.
Many Photoshop users depend on brushes to add a design element to their work. From the whimsical to the complex, brushes are vital in the creation of high quality graphics that takes less than time that individual creating each element yourself. Brushes can cut the production time as much as 30% – 70%. That would be a massive increase in productivity which translates to more income in your pocket.
However standard Photoshop brushes just doesn't cut it. They are quite limited and they don't really offer that much flexibility and creativity with the design. There are a plethora of brush sets for sale out there but a lot of them are of poor quality. Buying one small set of brushes at a time can also add up and become very expensive.
The 800+ Photoshop Brushes Mega Set
The answer to that dilemma is the 800+ Photoshop Brushes Mega Set, the ultimate collection of Photoshop brushes that should be in each designer's list of tools. This collection of brushes is the brainchild of prominent Art Director Silvia Bukovac Gasevic. She has designed for world renowned clients and has won many prestigious awards. With that kind of credibility and pedigree behind 800+ Photoshop Brushes Mega Set, you know that you are paying for a top-notch product.
Link: Photoshop Brushes Mega Set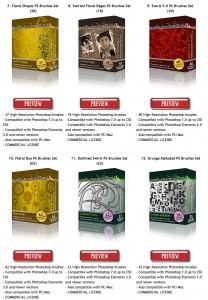 This massive collection features over 800 Photoshop brushes scattered across 24 categories. That would range from paisleys to heart and floral shapes, to banner and border designs. The collection is probably the most complete set of brushes that you will ever need. The only thing needed to bring them to life will be your creativity.
Unlike many commercial brushes out there the 800+ Photoshop Brushes Mega Set are big enough to be used on any large sized project. The brushes don't get blurred as you increase the size. Hence, they are perfect for digital scrapbooking, web design, even in creating photos and video projects. Since your purchase is covered by a commercial license, you are free to use it in any commercial project that would give you an income.
It's a very good investment because there is no compatibility issue. It is compatible with Photoshop 7 and all the versions of Photoshop CS. It will also work with Photoshop Elements from the 3rd version until the latest one. It can also work with a PC or a Mac running the latest version of OS X.  Even if you changes computers and upgrade to the latest version of Photoshop, you can be comforted that the 800+ Photoshop Brushes Mega Set will still work. Now that's value for money!
The best is – these brushes come WITH a commercial use license – GREAT for digital scrapbooking designers!
Check out their website, you can preview all brushes.