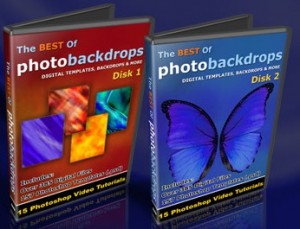 In the age of the digital camera, taking photos is an easy thing to do. There are literally hundreds of digital cameras out in the market today, ranging from a simple point and shoo camera, to the more expensive professional DSLR cameras. Smartphones, tablets, and even computers can take photos nowadays. While anybody can take digital photos, not everyone can capture that moment in a perfect shot.
Most people have a photo of themselves, wherein you loved how you looked or how you smiled and posed, but absolutely hated the backdrop. It looks ordinary, there are people behind you or it does not do you just this. Even if the subject of the photo looks beautiful, a horrible background can totally kill the picture. You have probably wished a way to change that backdrop into something else and make the photo look professional and worthy of being framed.
Photobacks – Beautiful Photography Backgrounds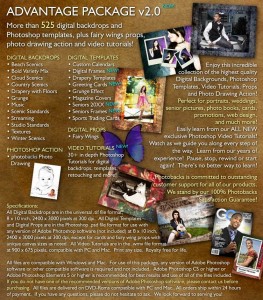 Photobacks is the answer to all your problems. This amazing set of digital background templates will add life to your photos and transform them into works of art that you can compile into albums, make into a scrapbook or be proud to post as your profile picture in any social network out there.
The latest edition is the Photobackgrounds Advantage Package version 2. This set contains over 585 digital files that you can all use to create more spectacular photos. Out of the hundreds of digital files, there are 375 digital backdrops and 126 Photoshop templates that you can mix and match to create an unlimited number of professional looking photos.  All digital backdrops can accommodate up to 8×10 sizes, which are perfect for framing and hanging on your living room's wall or arranging them into a beautiful photo book. Aside from being used a photo backgrounds, these patterns can be overlaid to your existing photo to give it some texture. Special effects can definitely give your photo the wow factor.
Get your copy of this fantastic set here
What is nice about Photobackgrounds Advantage Package version 2 is the sheer amount of backdrops and templates. You can create calendars filled with your favorite photos and give it as gifts to family and friends. You can even make any picture look like the drapery that professional studios have. There are also templates that can be used to make stylish and elegant yearbook or prom photos. There are practically so many ways that you can use this set of template. And since it can used with the PC and a Mac running on OS X, then you will have no compatibility problems at all!
For those who are just beginners in photo editing, one of the most valuable bonuses that comes with the product is the Photoshop tutorial. The tutorial teaches you how to do the basic photo editing functions step by step. Learn how to remove the ugly backgrounds from your photos and replace it with something more eye-popping. Watch how you can do a digital makeover so that the photo's subject looks even more beautiful. The tutorials are easy to understand and are a big help to get you started. With the tutorials, you can learn how to maximize the Photobacks and be able to earn from it.
With Photobackgrounds Advantage Package version 2, you can make sure that every photo is a picture-perfect moment.
Check out the manufacturers website – they have awesome examples and a great video to show you how many and what photography backgrounds are included.