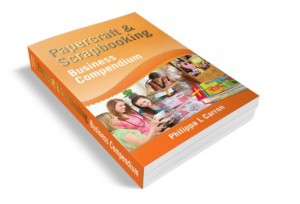 Most people think of scrapbooking and other arts and crafts as simply hobbies. It's something you do in your leisure time. It can be a way to de-stress and unleash your creativity. It's an activity that you can do with your family and friends a way to bond with each other. It's a way to create mementos that will last a lifetime, make handcrafted gifts that are personal and touching; a way to bring a smile on the faces of your loved ones.
Majority won't think of scrapbooking as a business. Chances are you probably never thought of it that way either. The thing is, you and the rest of the world might have not realized that scrapbooking is big business. Just take a look at yourself. You spend money on materials, lessons and other things related to scrapbooking and crafting. Many Americans do the same thing as well. In fact, a third of all Americans are involved with scrapbooking and papercrafting. It's a billion dollar industry!
So why not take it to the next level and start your own scrapbooking and papercraft business? You'd probably counter with the fact that you either do not have the time and you don't know anything about running a business. That's the beauty of it. There is a book that will solve all your problems and remove any fears that you may have with starting your business.
Papercraft and Scrapbooking Compendium
The Papercraft and Scrapbooking Business Compendium is your go to guide for starting your own business. It's your roadmap to the success. The book explains how with a little know how and a little initial cash outlay, you can begin a business that will generate another source of income for you. The book has tons of money-making ideas that can suit everybody. There are ideas for businesses that you can do part-time while holding on to your day job. You can also get ideas for starting bigger and more ambitious money-making ideas if you want to do it full time.
With the Papercraft and Scrapbooking Business Compendium, the guesswork is eliminated. Everything you need is in the book and it is written down in sequential steps so you know where to start and the next steps you should do. There's no need to worry if you don't have some sort of business degree. The book will teach you how to market your product, how to make use of various distribution channels, and even how to work up your finances.
If you read the Papercraft and Scrapbooking Business Compendium, you'll realize that does not just give lessons on the scrapbooking industry. In fact, you can basically learn how to start up and operate a business in whatever industry you choose. The book reads like a crash course in getting an MBA and is full of practical tips that you probably won't learn in a classroom.
For persons who love scrapbooking and papercraft, this is an excellent opportunity for you to move to the other side of the coin. The best job in the world is doing something you love. So why not turn your hobby into something that generates income. With the help of the Papercraft and Scrapbooking Business Compendium, you will be able to start your own business and enjoy doing the things that make you happy. It's the best of  both worlds. 
Make Money with Scrapbooking – Go here