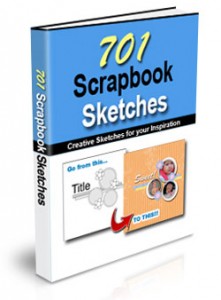 Many people start with the intention of scrapbooking for a hobby. After all, it's a great way to preserve memories in a creative manner. A scrapbook also makes a great present to a loved one. You enter a scrapbooking store and buy all sorts of materials. You actually buy more than what you have intended because all of the glitter and stationary look so cute. You take out your photos and find the best ones to use. And then you're stuck. You don't know where to begin because you don't know what layout to use. Or you create your scrapbook layout and you're disappointed. Your scrapbook looks so ordinary while the ones you see on the internet and at the craft store look so perfect.
Normally, it takes some time to learn how to do scrapbooking. You can take a look at videos over the internet, you can join scrapbooking groups or you can take classes at your local craft store. It does take a lot of practice before you can achieve a high skill level and instinctively know which layout will work best. Well, let me tell you a secret. You don't have to worry about layout ideas anymore because of the book 701 Scrapbook Sketches.
Grab the 701 Scrapbook Sketches now!
701 Scrapbook Sketches takes away that feeling of uncertainty about your scrapbook layout. The book has a fantastic collection of proven layout and guides to what embellishments are great to use. It's a roadmap that you can use to achieving the look that you want. There's no need to second guess yourself when all you have to do is flip through the pages and find the sketch of the layout that appeals to you.
701 Scrapbook Sketches
The book has a mammoth collection of scrapbooking sketches. There's 177 one photo layouts, 142 two photo layouts, 201 three photo layouts, 153 four photo layouts and 41  five photo layouts. It's an immense collection of templates, ranging from the simple to a complex and ornate look for the more advanced crafter out there. With 701 sketches to choose from, it would actually take you almost 2 years to use them all up if you did a layout every single day.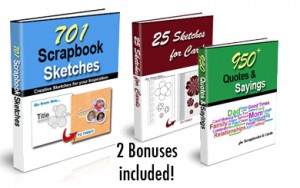 What's nice about 701 Scrapbook Sketches is that it just provides a template, a guide so to speak. It will still allow you to unleash your creativity while doing a page. And it's universal as well. The sketches work well, whether you are making a scrapbook the traditional way or using some software. It's also great that the layouts can be used on any size square layout. That way you have the choice whether to make a small page or a larger layout.
One of the most common dilemmas is what color scheme to you. The book is able to help a great deal because it provides a color wheel that will assist you in choosing and combining colors. With 701 Scrapbook Sketches, making a picture-perfect scrapbook is as easy as pie. You're friends and family will surely be amazed at your work.
Go here to grab your copy of 701 Scrapbook Sketches now