Lightroom 4 Tutorials for Image Editing
If you are a scrapbooker you most likely have a camera in your pocket – to capture all the moments in your life worth to be scrapped later. I have a little digital camera for this purposes. It is pretty old but I still love the quality of the pictures. It's not for high-end photography but that is not what I need when taking snapshots. I just need to capture the moment. But then, more often than not, I sit down later and work on the photos – sometimes I put a filter on them to give them another atmosphere or I resharpen the photos, etc. I actually enjoy image editing and sometimes I extract the person or object and put in my layouts. Image editing has never been easier as with Adobe Lightroom and the help of the Adobe Lightroom 4 Tutorials.
While I use Photoshop for designing I lately switched to Adobe Lightroom 4 for other image editing tasks – in many cases it is much easier to handle and very intuitive to use when it comes to enhancing your photos. In the new Lightroom 4 you can even create a photobook – I just love that feature. Beside that Lightroom is much cheaper than Photoshop.
As you may know I was a fan of the Simple Wedding Photography Ebook by PhotographyConcentrate and I couldn't wait to get my hands on the new Super Photo Editing Skills Tutorial Set – they put together an enormous number of Lightroom 4 tutorials compared with tons of presets and other material.
And yes, it was well worth to spend my money on the Adobe Lightroom 4 Tutorials 😀
So here is what you get in the Lightroom 4 Tutorials package:
63 Adobe Lightroom 4 Tutorial videos (totalling over 5 hours of screencasts) showing you how to enhance your photos using Lightroom 4
Over 50 high quality color, black & white, and utility Lightroom presets
35 example photos to follow along with the Lightroom Tutorials (you can use them to try out the settings and videos to get the same results).
And two supporting eBooks – the Photo Editing Field Guide and the Editing Style Guide
Personally, I love the Lightroom 4 Tutorial videos – they cover it all from setting up Lightroom to importing, shortcuts, the library, color toning with split toning, distortion correction, adding a vignette,  sharpening – and so much more. I would need to list 63 different tutorials if I would like to give you a list what you learn. So this offer is super cheap when I see that the package also includes a set of 50 Lightroom Presets and photos.
Have a look at the Lightroom tutorial video:
I watched all the Lightroom Tutorials 4 on my iPad (:D) lying on our sofa and relaxing. Each Lightroom 4 Tutorial has just some minutes so even if you have not much time on your hands you can watch a video from time to time – wherever you are.
The all deciding question 😉 – Is this set also right for YOU?
It doesn't matter if you have never ever edited a picture or if you are already a professional – this Lightroom 4 tutorial set will help you to get your photos where you want them to be. You learn it all from the simple settings until the advanced skills to get the right effects.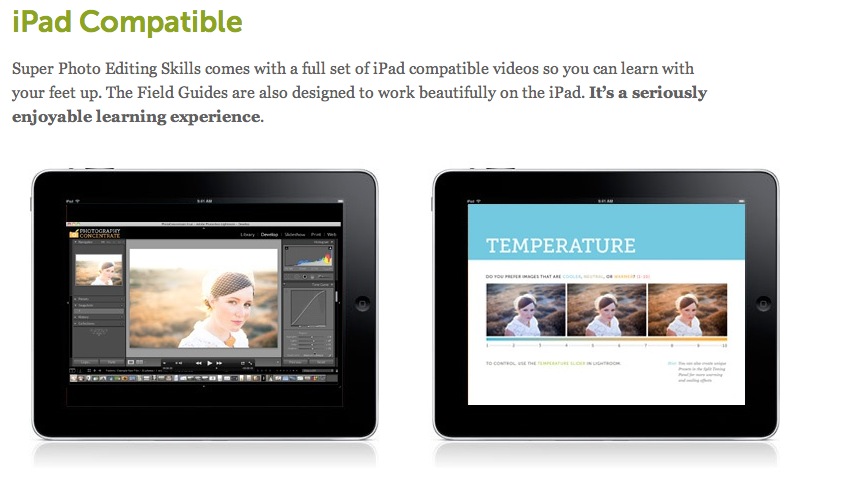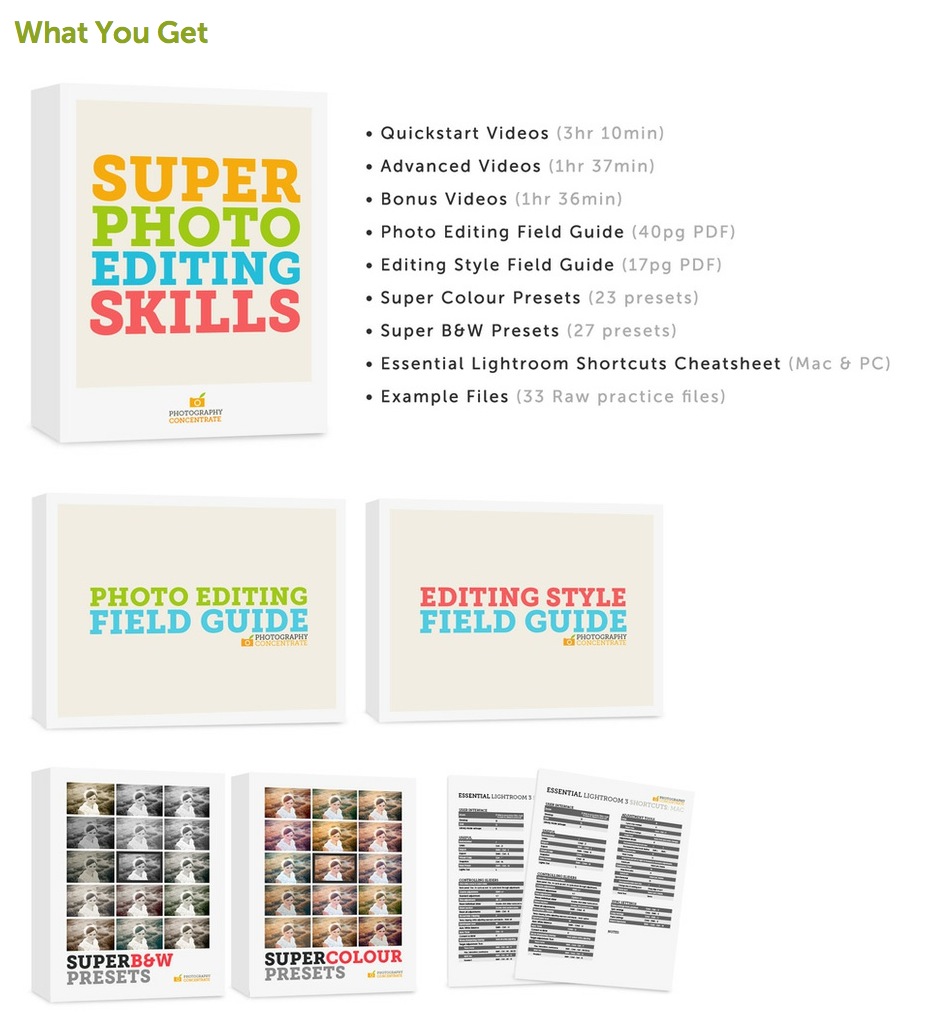 Anyway, I thought I let you know about this – you can't go wrong with this set of Lightroom Tutorials.