Print Scrapbooking Layouts with the Best Printer for Scrapbooking
I haven't often printed my layouts so far. But since we went to the fair in March I had to print out my projects to show people what they could do with digital scrapbooking. We created coffee cups, notebooks, a photo book, mouse pads, and many more articles to show what you can do with digital scrapbooking. So here I show you the best printer for scrapbooking.
Many things you can do at home on your own printer. I know many think that ink costs a lot of money but there is a lot of cheap ink you can consider – for not even half the price. We bought it and are still more than happy with the results.
Here are the best printers for scrapbooking I know and use for my own projects.
The Canon Pixma MX882 Wireless is my favorite printer. It prints two-side documents and even captures beautiful photos from HD-Movies taken with a Canon DSLR or Powershot.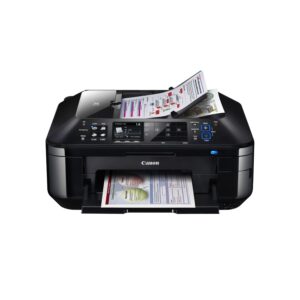 This printer is really fast and reliable and what I love most is the fact that you can get cheap ink (I know we shouldn't do it but I do anyway and never had a disadvantage from doing so). It has a 3 inch huge display you can use intuitively. This one, as well as the others, are wireless printers. You can integrate them into your network and print wirelessly. What I really like is that I have one cable less on my desktop. This means one cable less my cat can chew 😉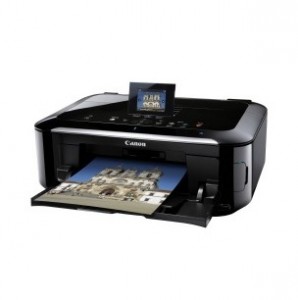 Another great wireless printer is the Canon Pixma MG 5320. This is also a wireless printer and it has one huge advantage – it can also print CD and DVD labels. It also allows you to print photos from your HD Camera and has a double-sided print. Beside that it is cheaper as the Canon Pixma MX882. I don't think you'll notice that it might have a slightly smaller resolution. All in all – this is the better printer for your money, especially if you need the CD/DVD label print (for example if you want to print your own designed label on a DVD which is very nice). This printer allows you to print from your iPhone,  iPod Touch, and Android Devices. You can have all sorts of fun with your photos and add effects like Fish Effect, Miniature, Toy Camera, Soft Focus, and Blur Background.
Of course, it is all about the preferences you have and the label you choose (Canon, Hewlett Packard, Brother, etc.) but from my experience these printers, even with a high volume of printing we have in our office, are reliable and I can get cheap ink for both them. Also, even if you want to print your own pictures and scrapbooks these printers offer a great quality.
Please keep in mind that the paper you use to print scrapbooking layouts is also important. I usually resize my layouts to 8.5 x 11 inch –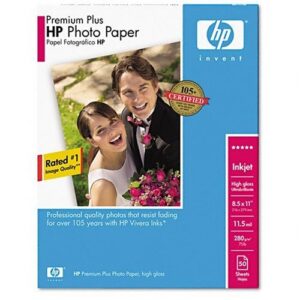 this way I can print them at home cheaply. The HP Premium Photo Paper Pack includes 50 sheets of paper. With its weight of 280 g/m2 it has a great quality and prints black/white as well as colors sharply. The high-gloss finish ensures that skin tones are printed realistically and with maximum color-intense. You also get superior fade-resistance, mostly twice as long as the leading competitive paper. Depending on the look you want you can choose between glossy (poppy, colorful images), matte (text images), and satin finish for a professional and smooth touch.