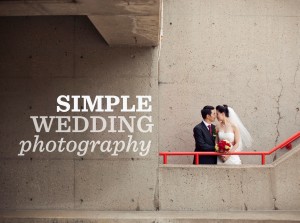 Yes, I'm an ebook addict! Since I got my iPad for Christmas you can't stop me from buying new books – unfortunately. I always loved books and I have many of them. Since ebooks get more and more popular I have switched to the electronic version which is very nice – it saves me tons of storage and I can take all my books with me 🙂 Great books about Photography are still rare and even more great books about Wedding Photography – so when I saw this one I jumped up and down and just bought it 🙂
First of all I want to say – I'm not disappointed. Although Simple Wedding Photography is the first book of Rob and Lauren they did a fantastic job (or maybe because it is their first book they put extra much love into it) – whatever the reason is, I can see this become one of my favorites.
If you are invited to a wedding and people know that you are "in" Photography your good friend won't take long until she asks you if you can't take some pictures of the day – actually, the  more people who take pictures the better it is. What does a good friend say? Yes, of course you do 😉 But with the agreement there comes a lot of responsibility. Imagine the photos are bad – omgh, that's the worst case ever! Or your camera fails, or you don't have a second battery in your pocket – a lot can go wrong and therefore it's not bad to take all things you can upfront to make sure that your photos become a big success.
Or maybe you love photography and just thought you could turn it into a business? The authors have a lot of tips added for that case as well.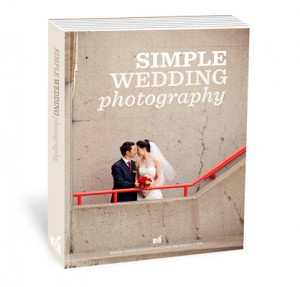 Let me get on the books content tables.
The book is splited into two parts – the Photography itself and Wedding Photography for a business. The Photography part covers it all, e.g.
what lenses do you need?
which places/events do you need to shot?
what's the correct light?
which accessories do you need?
which camera settings to use and why you should shoot in camera raw mode
it also discusses the style of your photography, composition tips and storytelling
The second part of the book covers the business part. It explains in detail how to get started, set up a blog/website, making contracts, charging the customer and so much more.
All in all the book has about 200 pages – but that's not all, additionally you get a huge amount of additional files:
7 simple steps to market your wedding photography business
Branding Worksheet
Post-Wedding Report Card
Sample Album
Wedding Day Shot List (VERY helpful – for both professionals and hobby photographer)
Wedding Day Worksheet (where you can add all the details: where, when, who, etc)
and the Wedding Day Preparation Checklist
As you can see the bonuses are mostly for those interested in a photography business but some of the sheets are very helpful for us hobby photographs as well.
I definitely like the ebook: as a hobby photographer I do not get out a lot of the business part of the book BUT (and that's a big but) the first part is SO good that I can highly recommend the book. It does not just explain the lenses you should use (the area I usually have trouble with) but also the areas, the light you can use, the settings, and so much more.
For launch price the book is – of course – on sale. So grab it for the low introduction price as long as you can.
Go here to check out the book: