Tagger Kits contain elements and papers just as any "normal" digital scrapbooking kits. While full-size digital scrapbooking kits are 12×12 inch with a resolution of 300 dpi for great printing quality, tagger kits have a resolution of 72 dpi and with 2.6 x 2.6 inch.
From the preview, you often don't see that kits are tagger kits. That's why we don't sell tagger kits at Digidesignresort – we don't want to confuse our customers. Beside that you can always downsize full kits.
Here is a signature tag created with Carena's Autumn Crunch Kit – a full-sized kit used for a Tag but it gives you a basic idea how you can use Tagger Kits.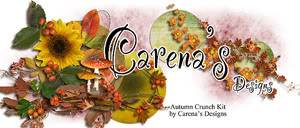 Taggers are making signature graphics from the kits and tag them to their emails or they create avatars for e.g. forums. So mostly these graphics are used for web purposes because of their size. You can't use them for printing.