Installing Styles in Photoshop Elements is not as easy as in Photoshop. But if you follow the instructions in the video step by step you can do it quickly.
I describe it for a Mac computer but Windows computer will have a similar structure.
Go to your harddrive, locate the folder Library –> Application Support –> Adobe –> Photoshop Elements –> 9.0 (or whatever version you have) –> PhotoCreations
Delete the ThumbD file – this is the database. It needs to be deleted and will be rebuilt when you open Photoshop Elements otherwise your style won't be installed.

Click on layer styles and you see all layer styles installed so far in Photoshop Elements.
You need to copy one of the Metadatafiles on your desktop. Rename it and give it the same name as the layer style has you want to install. Open your Metadatafile. Do a right click, click on Open With and choose TextEdit. Now you need to change the name – on the top locate filename=filename and replace both with the new file name (in this example the name is Bevel)

Now copy both files – the metadata.xml and asl file into the folder " layer styles " we located before.
Then re-open Photoshop Elements. A new database will be built when you open Photoshop Elements again. This can take some minutes. After that go to the menu Window –> Effects and click on the layer sign: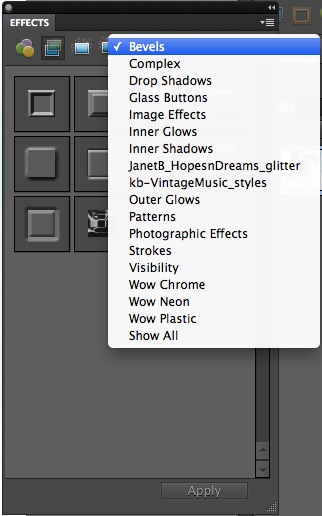 From the drop down menu you can choose the different layer styles and also the one you have installed.